About South Coast Officiant
At South Coast Officiant we want to make your ceremony AMAZING! We understand this is the culmination of years of waiting to be joined to your most perfect partner. This is the one person in the whole wide world that has made you feel complete. We have been marrying great couples since 2010. It all started with Allie's sister asking her to marry them. She was honored and super surprised. Why was she being chosen for this amazing moment. Well as her sister told her, "Allie you have gone to college and studied theology and linguistics. You can make us all feel comfortable and make us laugh. You have a great way of talking to people and letting them know this is important and we are important." How could Allie say no to that? She didn't... Here we are years later, having her passion become a great reality.
We don't believe in the one size fits all ceremony. How can something so important be the same for everyone? We talk to our couples at a complimentary consultation, make sure we are a good fit and move forward in creating your perfect ceremony.
About our amazing team!
Allie Garcia is the Presiding Officiant, creating each and every ceremony together with you. She has several college degrees and studies in religion, linguistics and administration. She has travelled through out the world and has experienced many cultures and traditions. She brings these great experiences to you. To make your ceremony the most special event in your life. All together this offers couples the tranquility that their ceremony will be truly perfect and well designed, full of beautiful special memories that will last a life time. Officiating is her passion and devotion.
She offers ceremonies in English, Spanish and French.
Leonardo Garcia is one of our Officiants at SCO. He is a Retired Naval Officer. He presents amazing ceremonies for each and every couple. His love of life and uplifting character makes each couple feel very comfortable. He works closely with Allie (his wife of over 20 years... and counting) to make each ceremony special for you. His attention to detail is exceptional. His tranquility and peaceful demeanor will bring a true feeling of family to your wedding. He loves to bring the entire family together as part of the ceremony through the readings, traditions and vows.
He offers ceremonies in Spanish.
George and Natalie Garcia are our wedding assistants and support at our larger weddings. Our Officiants must focus 100% on the ceremony and the couple. Our assistants make sure that everything is where is should be and get things done. If a detail is forgotten, they are sure to jump in and fix it on the spot. Just the other day the rings were "lost" and George "found" them, the Maid of Honor was so happy he was there.
Our process
We create meaningful ceremonies, making your wedding very special to you. We work closely with you to create a ceremony exactly as you wish. Each and every detail is well planned before the wedding. We send you working drafts of our ceremony to make sure it is exactly as you wish or we keep parts secret, to make it a wonderful surprise. It is up to you! South Coast Officiant celebrates your love.

Our services are performed by non-denominational, ordained ministers that are experienced public speakers with years of experience. We have professional Officiants that will do everything perfectly. This is an extremely important day for you as a couple and you want to make certain you have an experienced Officiant. You have the choice of being as religious or non-religious as you wish. As we personally prepare your ceremony, our attention to detail is absolute.

Services are offered in English, Spanish and French.
Services Offered:
Weddings
Commitment Ceremonies
Hand Fastings
Vow Renewals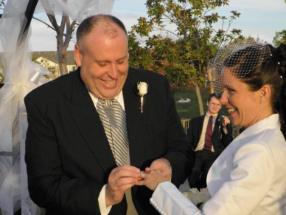 Call or Text Us Today! (951)878-WEDS
Llamenos o mandenos un texto hoy (951)878-9337